Alger Pugh
The Alger Pugh Memorial Scholarship was established in memory of GW Football Coach Alger Pugh. The scholarship supports GW High School athletes, with a preference given to GW football players. Alger Pugh coached football from 1964 until his retirement in 1982, the...
Andy Warren
The Andy Warren Memorial Scholarship was created in memory of GW Football Coach Andy Warren to support GW athletes, with a preference for football players. Andy Warren graduated from George Washington High School in 1981. He was given a full athletic scholarship to...
Arnold B. Porter & Elizabeth J. Porter
The Arnold B. Porter & Elizabeth J. Porter Scholarship was established in 2008 with The Community Foundation of the Dan River Region for students who are members of Fairview United Methodist Church who demonstrate a reasonable need for financial aid. The Porters...
Bennett-Bushnell-Jones-Kaufman
The Bennett-Bushnell-Jones-Kaufman Scholarship was created with The Community Foundation in 2008 by the Piedmont Health Foundation. The Scholarship was created by merging four previously formed scholarships to create one permanently endowed scholarship at The...
Bernard C. Calvert
The Bernard C. Calvert Scholarship was established in 2004 by the Brosville Council #51 of the Junior Order of United American Mechanics. The scholarship is for Tunstall High School graduates, preferably students who attended either Brosville or Stony Mill Schools....
Danville Academic Boosters
The Danville Academic Boosters Scholarship was transferred to Community Foundation from the Danville Academic Boosters in 2003. The scholarship is given each year to the top 5 academic Danville Public Schools students.
Danville Lions Foundation
Lions meet the needs of local communities and the world every day because they share a core belief – to serve their community. Lions Clubs International is the world's largest service club organization. We have 1.35 million members in more than 45,000 clubs in more...
Deputy Frankie Lynn Betterton
Dorinda Yeatts created the Deputy Frankie Lynn Betterton Scholarship in 2012 in memory of her brother, Frankie, a Pittsylvania County sheriff deputy who was killed on the job during a traffic stop on May 17, 2002, at the age of 43. The fund awards scholarships to...
Diane Marie Gross
The Diane Marie Gross Scholarship supports Danville or Pittsylvania County graduates attending Washington and Lee University or the College of William and Mary. The scholarship was created in memory of Diane who was tragically killed in an automobile accident in 1981...
Doug and Mickey Hayes
Doug Hayes wanted to create a scholarship honoring his wife, Mickey, who had a love of art from an early age. After her retirement in 1985, she began taking art classes. She is known for her work with flowers, which was inspired by her flower garden. She is quoted...
Dr. John R. and Betty B. Eggleston
For more than 33 years, Dr. John R. and Betty B. Eggleston devoted their lives to the children of the Danville area. Dr. Eggleston, who served in the South Pacific during World War II and studied in Baltimore, St. Louis, and London, set a new standard for medical...
Elizabeth Whitlow Reith Price
The scholarship is named as such to honor Elizabeth's dedication to helping others through her nursing career, to honor her three older sisters who also had careers in nursing,and to acknowledge the importance of a strong, supporting family. Elizabeth was born to...
Eliza Patterson Hines
Eliza Patterson Hines was born in 1917 in Pittsylvania County, where she lived with her five sisters and two brothers. She was a member and former pianist of Gretna Christian Church. Mrs. Hines received her Associate degree from Averett and received her Master's...
Frances Hallam Hurt
The John L. Hurt, Jr. Scholarship was established with the Community Foundation by Frances Hallam Hurt (Mrs. Henry C. Hurt, Sr.). The scholarship supports Gretna High School graduates, with a preference for those who attended the John L. Hurt, Jr. Elementary...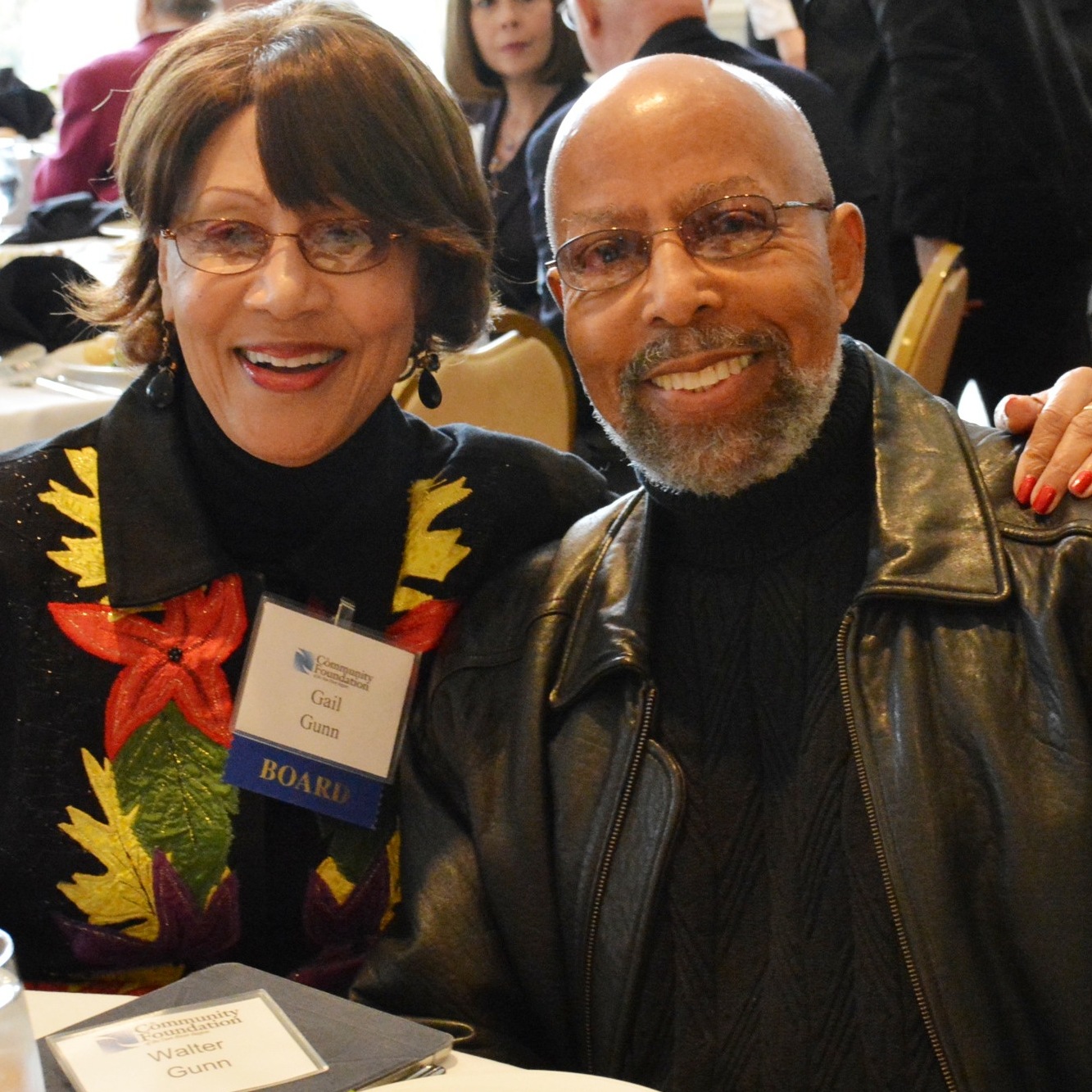 Gail and Walter Gunn Scholarship
Gail and Walter Gunn endowed the Gail and Walter Gunn Scholarship in 2015. The Gunn's believe in giving back to the community through their time, energy and finances. They have served as members of the Danville-Pittsylvania County Chamber of Commerce, The Wednesday...
Garnette Riddle Francis
The Riddle-Francis Scholarship was established by Garnette Riddle Francis. Mrs. Francis graduated from Averett College in 1938 and Madison College in 1940. She loved teaching English at Whitmell Farm Life School for a number of years. The Riddle-Francis Scholarship...
GW Class of 1957
The GW Class of 1957 Scholarship was created by the Class of 1957 for their 50th High School Reunion to benefit GW graduates.
Helen K. Gantsoudes
The Gantsoudes Scholarship supports graduating seniors of George Washington High School attending college in North Carolina or Virginia. The scholarship was created by Helen K. Gantsoudes. Helen Kanos Gantsoudes established the Gantsoudes Scholarship Fund at The...
Irene L. Pritchett
A tobacco factory worker at P. Lorillard for decades, Irene L. Pritchett had a dream. She believed in a better tomorrow for black children through higher education. This visually handicapped woman worked hard, invested her money wisely, and, through her will,...
James W. Bryant, Sr. and James T. Collie
The James W. Bryant, Sr. and James T. Collie Scholarship was established in 2005 by Mrs. Virginia Collie, a retired Pittsylvania County school teacher, in honor of her father and father-in-law. The scholarship supports Pittsylvania County Public Schools graduates,...
John B. Grubb
The John B. Grubb Scholarship was established in 2007 by Ruby Hodges Grubb. Scholarships are awarded to Danville and Pittsylvania County students who have demonstrated a devotion to academics, or are otherwise talented, and who have a need for financial support.
John Watson Daniel
John Watson Daniel Scholarship was established in memory of John W. Daniel in 1997 by the JWD Retirement Club. The scholarship supports graduates in Danville, Pittsylvania or Caswell County (descendants of employees or retirees of John W. Daniel Construction Company...
Judge Spiros B. Skenderis
The Spiros Skenderis Scholarship was established by the Danville Bar Association in memory of Judge Skenderis. The scholarship supports Danville and Pittsylvania County Public Schools who have overcome a hardship. Judge Spiros B. Skenderis was born in Lexington,...
Judie Adkerson-Dodson
Judie Adkerson-Dodson wished to establish an endowed scholarship in memory of her sister, Elsie Carolyn Adkerson, who was born prematurely in 1944, and lived with epilepsy and handicaps until her death in 2000 but was able to attend school through the seventh grade....
Pat and Cathy Daly
The Hokie Bird Scholarship was created by Pat and Cathy Daly to support Danville-Pittsylvania County High School graduates attending Virginia Tech.
Pat & Cathy Daly
The First Responder-Hero Education Scholarship was created by Pat and Cathy Daly to support Danville-Pittsylvania-Caswell County High School graduates whose parents are armed force members or veterans, law enforcement officers, or fulltime or volunteer firefighters.
Patrick H. Musick
The Patrick H. Musick Memorial Scholarship supports deserving Averett University students, with a preference for academically qualified students who have a tennis-playing background. Pat Musick was a native of Kingsport, Tennessee. He graduated from Virginia Tech...
Percy and Velna Scearce
The Percy and Velna Scearce Scholarship Fund was established by their children and grandchildren to recognize and memorialize the Scearce's personal contributions to the educations of numerous young people. Both Velna and Percy Scearce believed strongly in the value...